Frequently Asked Questions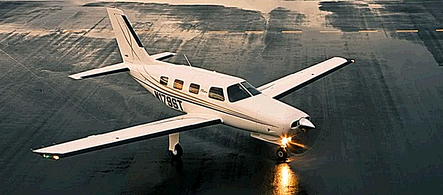 I plan to buy a used PA46, M350, M500, M600, Matrix, Malibu, Mirage or Meridian Aircraft. Can you help me find and purchase a good one?
Yes, I can help you with the purchase of a used Piper PA46 aircraft. I can provide valuation data and I can help with the physical inspection of the aircraft. I do this all of the time; however, I do not participate in the sales commission. My fees and expenses are the same as for training and I generally accept a retainer for this type of work. Please
contact me
directly so we can discuss your specific needs.
---
I am planning to buy a new Piper PA46 aircraft and take delivery at the factory. Will you come to Vero Beach and train me?

Yes, of course. I am happy to help you, and my training is definitely geared to give you both confidence and competence right from the beginning because all of the training is done in and around your aircraft. In fact after two days of familiarization training we can start the journey back to your home airport, no matter where in the world it may be. This training will definitely make you a better pilot. You may want to ask your Piper dealer if they would be interested in participating on the cost of this training because I am unable to receive reimbursement from Piper for this training.

Who determines what training I need?
Normally, the training needed is a function of your aviation background and experience. Your insurance broker and underwriter will set minimum requirements and this is almost certainly going to include an approved training program like mine and very possibly some IOE (initial operating experience) from an approved instructor like me. I recommend that you combine these two requirements in one program. You will save time and money by doing so. An aircraft type-specific experienced insurance broker is the key to getting the best possible rate quote. If you do not have an insurance broker or if you think you will be unable to get the coverage you want with your existing broker, contact me. I may be able to help with a referral. Additionally, regardless of your experience, the insurance requirement is almost certainly going to include approved recurrent training annually. Some underwriters will require "simulator training". I offer this training with an
FAA approved full-motion Advanced Aviation Training Device (AATD)
. I suggest you allow me to prepare and provide you and your broker with a custom training plan so that you get the best value for your insurance and training dollar.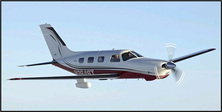 I was told by my broker that I had to go to Simcom. Is that true?
No, that is not correct. What your broker most likely told you is that your underwriter requires you to attend an approved training program. In a few cases an underwriter may require an approved program which includes but is not limited to "simulator training". The term "simulator" is widely misunderstood throughout the aviation insurance industry. There are no FAA approved "D Level" full motion simulators available for the Piper PA46 because of the enormous cost. There are only AATDs (Advanced Aviation Training Devices) available for some models of the PA46. Some of these AATDs are full motion but, according to the FAA, they do not replicate the PA46 aircraft well enough to be approved as simulators. In other words you will still need training in your aircraft from an experienced industry approved instructor like me. The choice will be yours. Here are
10 things to consider when choosing your flight training
.
My program is fully approved and fully insured and it optionally includes training in an
FAA approved Advanced Aviation Training Device (AATD)
. My program also offers you the opportunity to train at your home airport and in your own aircraft. This can be done safely and it is widely believed that this process will make you a safer, more confident pilot.
---
How do I choose a flight school/program/instructor?

All PA46 flight schools and instructors are not the same. It is up to you to be proactive in choosing a school and a specific instructor to fulfill this critical role in your life. Here are ten things to consider:
1 –
A type-specific, knowledgeable and experienced instructor is arguably the most important factor
2 –
A well organized, approved PA46-specific training program
with an excellent safety record
3 –
Reliable, validated pre-training assessment
4 -
Training to proper standards
5 -
Training to ProCard (airline transport pilot) standards
(optionally)
6 –
Excellent materials
7 -
Excellent training methods
8 -
Post-training evaluation, assessment and a plan for the future
9 -
Consistent follow-up
10 –
An around-the-clock mentor
Click Here for the full story
How much does excellent training cost?
Excellent training doesn't cost any more or take any longer. The total cost will depend on what training is provided, where it is provided and how long it takes. I offer programs from one to seven or more days in length. Most pilots are able to meet standards within 4 or 5 days, however it may take longer to provide enough proper training and iteration to be comfortable in the aircraft. Complete cost information is included
here
. You may also
contact me
directly so that I can answer your questions and we can discuss your specific needs. I am happy to provide an estimate of the costs if you wish, however, due to variations in flight training requirements, aircraft maintenance status, weather and logistics associated with travel, the estimate is subject to change.
If we are going to train in my aircraft, what about insurance?
Consider insurance for flight training to be a three legged stool. First, I have
my own insurance
which covers us for bodily injury and property damage (including your airplane). Very few instructors have the experience to qualify for PA46 in-aircraft training insurance. I know of no other qualified instructor who carries it. Second, I will request a Certificate of Insurance from your broker naming me as additionally insured. Third, I will ask that the COI include a waiver of Subrogation. These requests are a standard in the industry and I am unable to fly with you until I have this document. If you intend to operate as a self-insured owner or if your underwriter requires it, I will ask you to sign an indemnification agreement.
---
How and when do I schedule training?
You should schedule training as soon as you know your firm availability and the availability of your airworthy aircraft. You can begin that process by
contacting me directly
. We can discuss the details and layout a training schedule just for you and any other pilots training with you.
I am able to hold dates for your training when I have received the completed
application form
and a commitment from you for specific dates in the form of a non-refundable retainer of one half the proposed total. The balance of the total amount is due 10 days prior to the start of training.
Before any flight in your aircraft I must have a certificate of insurance from your broker naming RWR Pilot Training and its officers and instructors as additionally insured with a waiver of subrogation. If you are self insured or your underwriter requires it, I will ask you to sign a "hold harmless" agreement. The Certificate of Insurance with a Waiver of Subrogation must not be limited to flight instruction if aircraft relocation or any other pilot service is anticipated and I must have it prior to any flight in your aircraft. If you send anything by mail please alert me via phone or email because I travel a great deal and may not see regular mail in a timely fashion.
Training beyond the allotted program time when requested or required, or other service such as acquisition consultation, aircraft relocation or an acceptance flight is invoiced pro rata.


Where is training conducted?

We can train anywhere you like - worldwide. If we begin the training at the location of delivery of the aircraft, it is best to plan on two full training days at that location. Depending on the program and the amount of flying we will be doing, we should plan to fly LOFT (Line Oriented Flight Training) exercises on the routes you intend to fly normally. Specificity training is the most effective method for training pilots so you will train the way you fly. I am happy to travel anywhere in the world to be of service.

I offer training and services at any location worldwide, however If you train at one of the following airports, I can save you money because these cities are relatively easy for me to reach:

---
Albany, NY (ALB)
Albuquerque, NM (ABQ)
Atlanta, GA (ATL)
Austin, TX (AUS)
Baltimore, MD (BWI)
Birmingham, AL (BHM)
Boston, MA (BOS)
Buffalo/Niagra Falls, NY (BUF)
Cancun, MX (CUN)
Charleston, SC (CHS)
Charlotte, NC (CLT)
Cleveland, OH (CLE)
Columbus, OH (CMH)
Detroit, MI (DTW)
Denver, CO (DEN)




Flint, MI (FNT)
Ft Meyers, FL (RSW)
Ft Lauderdale, FL (FLL)
Grand Rapids, MI (GRR)
Greenville/Spartanburg, SC (GSP)
Hartford-Springfield, MA (BDL)
Houston, TX (HOU)
Indianapolis, IN (IND)
Kansas City, MO (MCI)
Las Vegas, NV (LAS)
Little Rock, AR (LIT)
Long Island/Islip, NY (ISP)
Los Angeles, CA (LAX)
Louisville, KY (SDF)






Manchester, VT (MHT)
Memphis, TN (MEM)
Nashville, TN (BNA)
New Orleans, LA (MSY)
Norfolk, VA (ORF)
Oakland, CA (OAK)
Oklahoma City, OK (OKC)
Orlando, FL (ORL)
Panama City, FL (ECP)
Phoenix, AZ (PHX)
Portland, ME (PWM)
Portland, OR (PDX)
Providence, RI (PVD)






Raleigh, NC (RDU)
Rochester, NY (ROC)
St. Louis, MO (STL)
Salt Lake City, UT (SLC)
San Antonio, TX (SAT)
San Diego, CA (SAN)
Seattle, WA (SEA)
Tampa, FL
West Palm Beach, FL (PBI)


Outside the United States, I can meet you nearly anywhere you like as well; however, the following cities are most easily reached and therefore less expensive to reach:

Amsterdam, Aruba, Cancun, Copenhagen, Dubai, Frankfurt, Geneva, Jeddah, Johannesburg SA, London, Manchester UK, Mexico City, Montego Bay, Jamaica, Montreal, Munich, Nassau, Ottawa Canada, Panama City Panama, Paris, Punta Cana DR, Rome, San Juan, PR (SJU), San Salvador, Toronto, Zurich



What should I do in advance to prepare for the training?
Review the Pilot Information Manual for your aircraft. If you do not have a PIM please contact me with your make/model and serial number and I will see to it that you get one.
Read and study the Standard Operating Procedures for the PA46 Aircraft and give careful consideration to them.
Consider browsing the Training Reference Library. This page has a lot of specific information for owner pilots including excellent training videos, articles of interest and photographs. There is a lot of information on a variety of specific topics which will help you become a better pilot.
Also, consider looking through the News and Information section.
You will need all of the charts and procedures for the areas we will be flying over. There are many ways to accomplish this, however, I recommend Foreflight (in the US and Canada) or Rocket Route (worldwide) on the latest model iPad available with 128 G and cell data service. I believe the iPad Mini with a Logitech cover works best in the cockpit.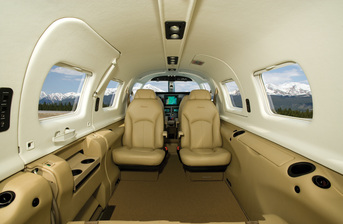 What does the training include in the way of endorsements?
Successful completion leads to the following certificates and endorsements:
An FAA Industry Standards (FITS) approved and insurance industry approved Course Completion Certificate. I will also send a copy to your insurance broker on your behalf.
FAA Flight Review Endorsement
FAA Instrument Proficiency Check Endorsement
FAA Physiology Training (High Altitude Operations) endorsement.
---
What should I expect from the training?

Training is a two way street. Your expectations should be honest and realistic and I promise to help you meet them. I will endeavor to provide excellent training designed specifically for you. I want to provide tactical, practical training which will make you a more confident, competent pilot. This may require you to unlearn some things that you thought you already knew. Here are
7 basic tenents
which will serve to outline my philosophy in this regard.
Are there any terms & conditions I should know about?
Yes; when you submit your application you are agreeing these
terms and conditions
.
How Do I Get Started?

Fill out and submit the
online application form
and I will contact you with a proposal. Once I have your non-refundable retainer we can schedule your training. Thank you. I look forward to working with you.