Professional Pilot Services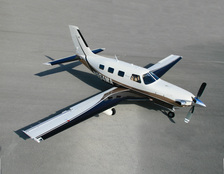 Dick Rochfort is a full-time pilot trainer specializing in the Piper PA46 M350, M500, M600, Matrix, Malibu, Mirage and Meridian aircraft. He provides pre-purchase valuation, training, corporate service and expert witness services worldwide.

A former corporate pilot and primary flight instructor, Dick is a full-time Master Certified Flight Instructor providing insurance approved initial and recurrent pilot training exclusively in the Piper PA46 aircraft. He is currently flying over 500 hours per year and trains 75 - 100 pilots every year exclusively in these aircraft.

---
He can provide substitute pilot service in for you on a short-term basis when needed. Dick Rochfort is ATP rated and meets all industry open pilot warranties. He carries his own non-owned insurance which covers him specifically in all variants of the PA46 aircraft.

Excellent service doesn't take any longer or cost any more. Here are ten things you should consider before choosing your PA46 service provider.
---
"Confidence comes from discipline and training" - Robert Kiyosaki